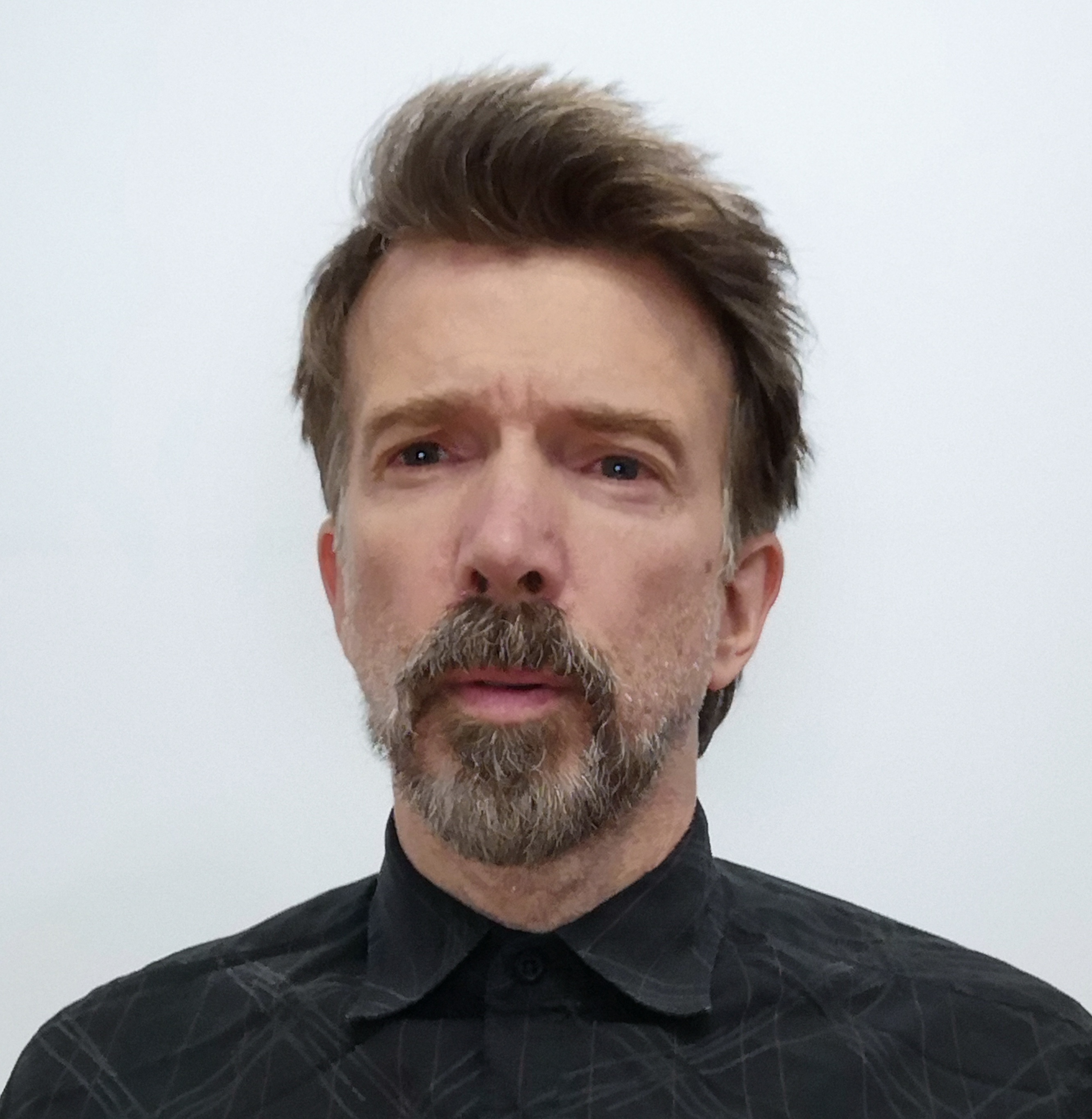 Prof. Kaspar Althoefer, Queen Mary University of London, UK
Professor Althoefer is an experienced roboticist leading competitively funded research on soft robotics, intelligent micro-sensing systems and interaction dynamics modelling with applications in minimally invasive surgery, assistive technologies and human-robot interaction at Queen Mary University of London. He acquired in excess of £6M as Principal Investigator from national/international funding bodies and successfully completed 22 PhD projects. Professor Althoefer's research team, currently comprising 10 postdoctoral research associates and PhD students, is involved in funded collaborative research with leading London hospitals, European research organisations and international companies creating novel robot-assisted solutions for nuclear waste decommissioning, cardiac catheterisation, foetal ultrasound monitoring, tissue diagnosis using miniaturised sensors and ergonomically-optimised human-robot interaction in the manufacturing sector. Over the last decade, the team has built a large portfolio of projects in application-oriented research for the healthcare sector and a wide range of industries with funding from organisations such as EPSRC, European Commission (including coordination of two EU-projects), Wellcome Trust and UK-based charities, exceeding £30M and producing more than 350 peer-reviewed papers.
Title: STIFF-FLOP: How far did we get, which challenges remain?
Abstract: In his talk, Professor Althoefer will give an overview of EU project STIFF-FLOP and its achievements. He will then survey the advancements of soft robotics in surgery and related medical fields. Opening up the workshop, Prof Althoefer will initiate the discussion on the hurdles that remain to further advance soft robotics solutions for medical applications.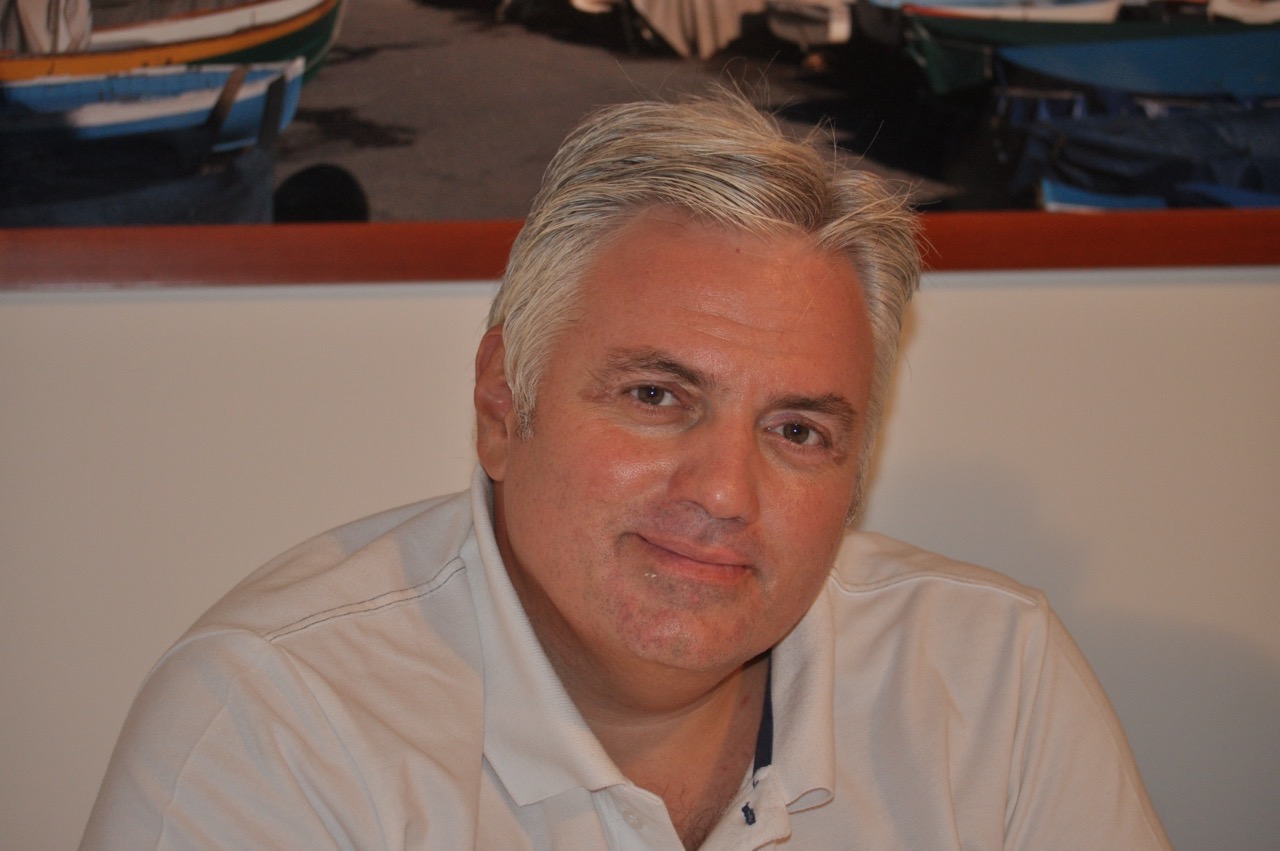 Prof. Alberto Arezzo, University of Turin, IT
Alberto Arezzo is Associate Professor of Surgery at the Dept. of Surgical Sciences, School of Medicine, University of Torino, Italy. He has a long experience in minimally invasive surgery, since the early 90ies, with particular interest in the treatment of colorectal cancer. Educated at the University of Tuebingen (Germany) under Gerhard Buess, he was initiated to surgery through the transanal approach (TEM - Transanal Endoscopic Microsurgery) first and to design operative techniques for flexible endoscopy through several devices he contributed to conceive and design. During this time, he became partner of some of the major companies in the field, such as Johnson & Johnson and Boston Scientific, with particular interest towards the application of the concept of Natural Orifices Translumenal Endoscopic Surgery (NOTES) of which he is awarded as a pioneer. His interest in the field of technologies included the application of robotics, as well as the development of microrobots for endoluminal surgery, for which he owns a prestigious patent named RED – Robot for Endoscopic Dissection.Along his career he received several national and international fellowships and awards both for clinical studies and for achievements in technology for surgery. He is currently Vice-Coordinator of the PhD Course in Bioengineering and Surgical Sciences, he is teaching Principles, materials and applications of robotics in biomedicine as well as Planning, management and analysis of clinical and laboratory research. Since 2017 he is Research Lead at MITIC (Minimally Invasive Therapy & Innovation Centre), at the University of Torino, Italy. Since 2019 he is Editor of the journal Minimally Invasive Therapy and Allied Technologies, Official Journal of the Society for Medical Innovation & Technology of which he has been President in 2017. He is member of the Scientific Committee of UEG, United European Gastroenterology, Chair of both the Technology Committee and the Program Committee of the European Association Endoscopic Surgery (EAES). He took part as local coordinator to the EU Projects CLEANTEST (FP5 2001-2003), VECTOR (FP6 2006-2011), STIFF-FLOP (FP7 2012-2015), ENDOO (H2020 2015-2019).
Title: The road ahead for endoluminal intervention: The endoo and red projects
Abstract: There is a clear need to increase early diagnosis of colorectal neoplasms to allow more local excisions and perform organ-sparing surgery. Current screening policies failed to reach reasonable attendance by the population as colonoscopy is perceived as uncomfortable and undignified. The rate of the population screened in Europe does not reach even 20%. We will go through current methods for screening and possible solutions. Once a reasonable rate of diagnosis of colorectal neoplasms at an early stage will be reached we should be able to offer these patients a minimally invasive (i.e. endoluminal) way of cure. Current endoscopic techniques failed to prove really effective both for the high rate of complications and the low rate of oncologic adequacy forcing too many cases to subsequent radical surgery. We will present current and forthcoming solutions to this that remains an unmet clinical need.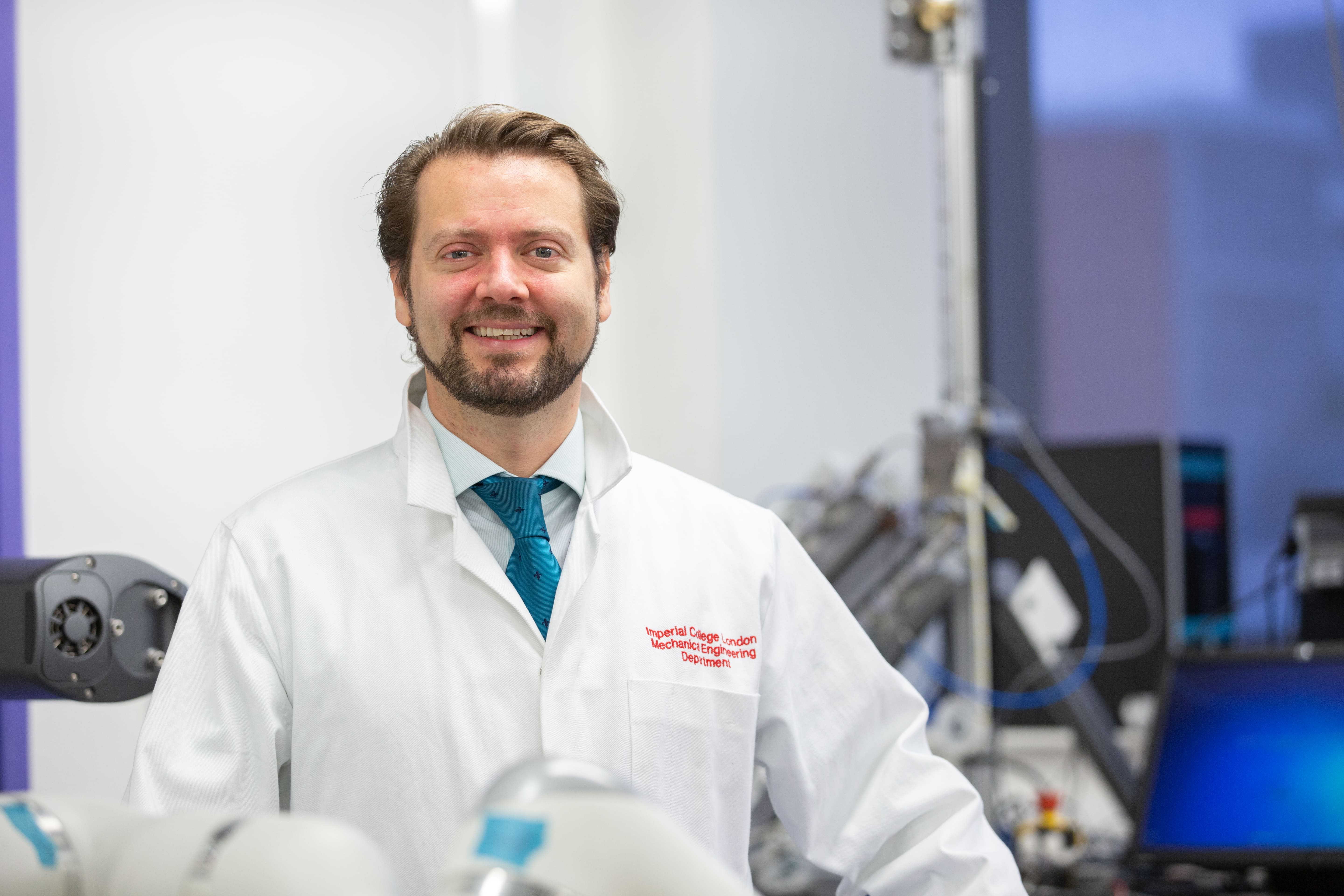 Prof. Ferdinando Rodriguez y Baena, Imperial College London, UK
Ferdinando Rodriguez y Baena is Professor of Medical Robotics in the Department of Mechanical Engineering at Imperial College, where he leads the Mechatronics in Medicine Laboratory and the Applied Mechanics Division. He has been the Engineering Co-Director of the Hamlyn Centre, which is part of the Institute of Global Health Innovation, since July 2020. He is a founding member and great advocate of the Imperial College Robotics Forum, now the first point of contact for roboticists at Imperial College. His team of staff and PhD students has a translational focus, though their work encompasses both "blue skies" research and "near-to-market" development. He is the Chair of the Programme Committee for the International Society for Computer Assisted Orthopaedic Surgery (CAOS International), CAOS UK, and the Hamlyn Symposium; He is also the founding Chair of the IET's recently established Communities Committee for Technical Networks (CCTN), a Leverhulme Prize winner (engineering), a former ERC grant holder, and the coordinator of an €8.3M European project on robotic-assisted neurosurgical drug delivery (EDEN2020). He has published over 160 papers and secured in excess of £12M in research funding to date.
Title: Soft Robotics for Precision Neurosurgery: The Tortuous Journey Behind a Biologically Inspired System
Abstract: This talk will introduce steerable instruments, with a focus on percutaneous intervention. It will describe the achievements and shortcomings of systems within the state of the art, followed by a summary of Prof Rodriguez y Baena's own efforts in the area of steerable needles. His system is inspired by the ovipositor of certain insects and can be steered along arbitrary three-dimensional trajectories within soft tissue. The lecture will describe his team's work to date on robotics, imaging, and sensing, followed by some general conclusions about current challenges and future opportunities.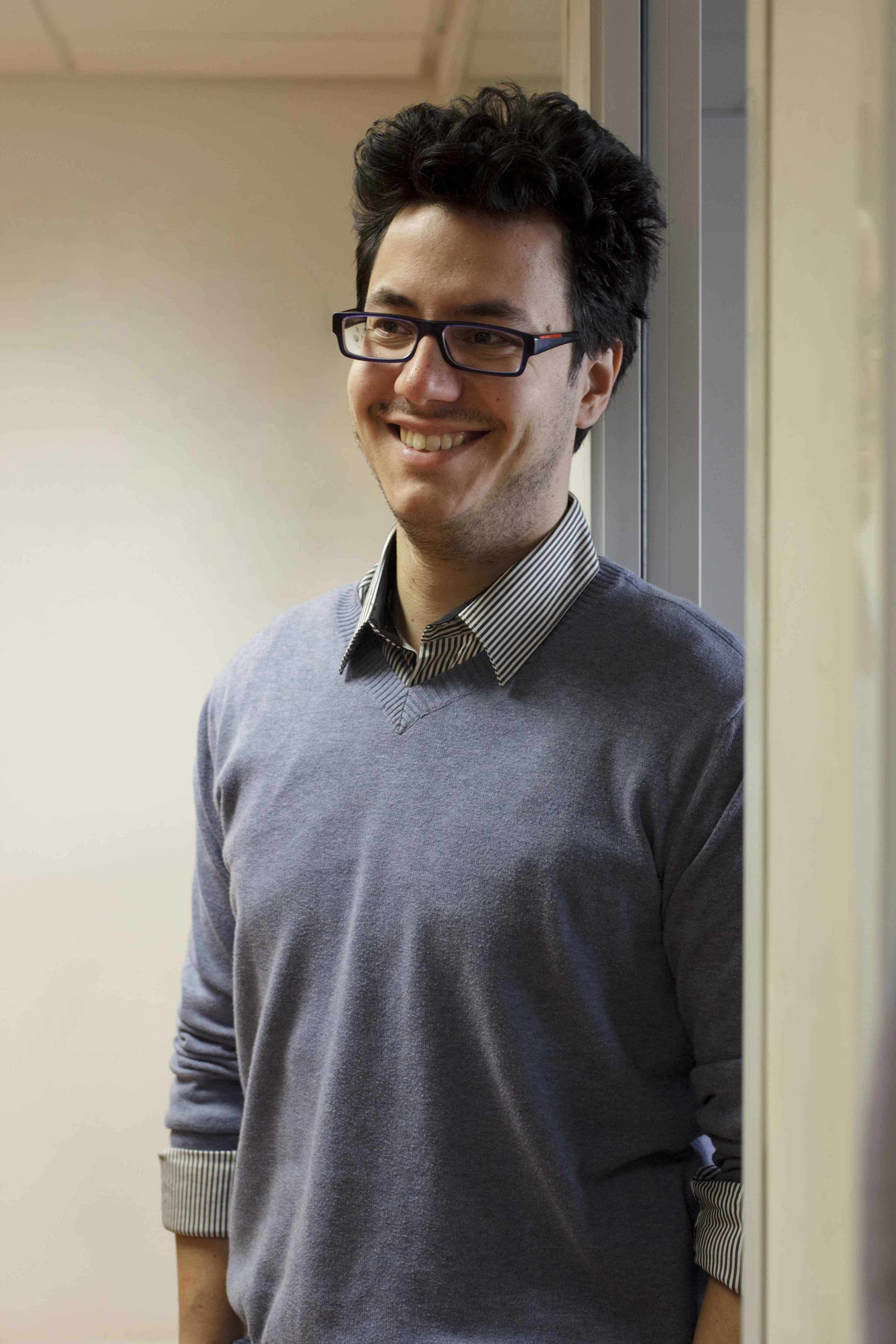 Prof. Christos Bergeles, King's College London, UK
https://www.bergeles.net
Christos Bergeles is Associate Professor (Reader) at King's College London, United Kingdom, and Deputy Director of the Centre for Doctoral Studies on Surgical & Interventional Engineering. His research focuses on the development of image-guided micro-surgical systems, crossing the boundaries between smart instrumentation and artificial intelligence. The mission of his team, the Robotics and Vision in Medicine Lab, is to develop flexible robotic systems that deliver regenerative therapies with micrometer precision. Key experience includes the development of robust mechatronic systems that adhere to clinical requirements to facilitate their translation. Close collaboration with expert clinicians ensures that the developed systems are fit for purpose, and speeds up the process of delivering patient benefits. Christos is the recipient of the ERC Starting Grant and translational research funding from NIHR. He was a founding member of the UCL Wellcome/EPSRC Centre for Interventional and Surgical Sciences, and is currently a core member of King's Wellcome/EPSRC Centre for Medical Engineering.

Title: MAMMOBOT: A miniature steerable soft growing robot for early breast cancer diagnosis
Abstract: This talk will introduce MAMMOBOT, one of the first millimetre-scale steerable soft growing robots for medical applications. MAMMOBOT aims to access the breast through the nipple and navigate the mammary ducts to detect precursors of invasive breast cancers. Addressing limitations of the state-of-the-art, MAMMOBOT maintains a hollow inner lumen throughout its soft body, enabling the passing of instruments such as miniature endoscopes, biopsy needles, and optical probes for in situ histopathology. MAMMOBOT is developed by a novel manufacturing approach entailing dual LDPE sheet adhesion with localised heat treatment. MAMMOBOT's steerability is achieved through a sub-millimetre profiled steerable catheter that passes through its inner lumen. Preliminary steerability experiments within a bespoke breast phantom demonstrate that alongside engineering innovation, MAMMOBOT has the potential to deliver impact for early breast cancer diagnosis.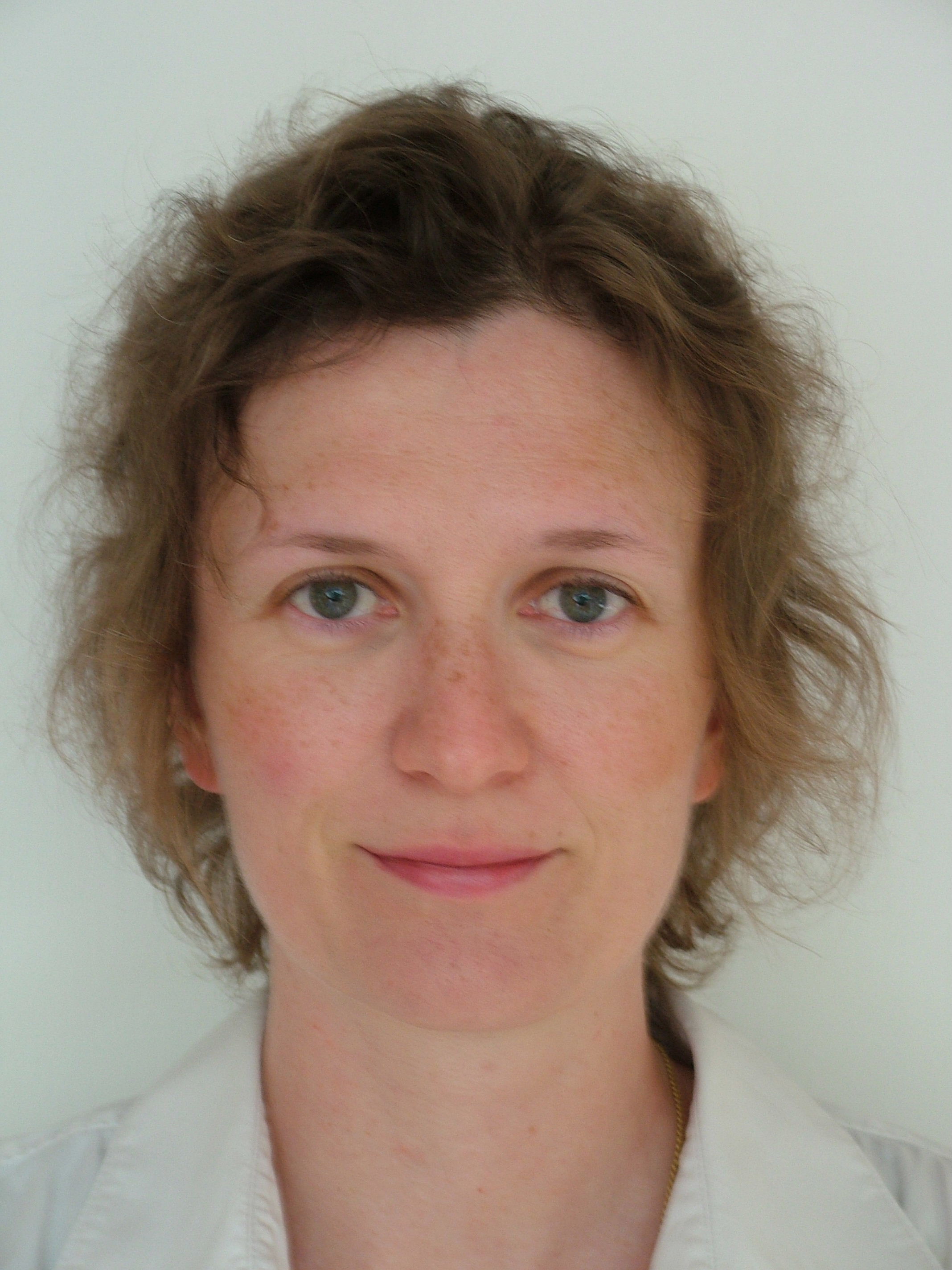 Prof. Sanja Dogramadzi, University of Sheffield, UK
Sanja Dogramadzi is Professor of Medical Robotics and Research Director at the Department of Automatic Control and Systems Engineering at University of Sheffield with over 20 years of research experience in surgical and physical assistance robots, safe human-robot interaction and soft robotic structures. She has led numerous EPSRC, EC, NIHR and Innovate UK projectsas PI. She is in the Executive Board of Sheffield Robotics. Prof. Dogramadzi established the medical robotics group at Bristol Robotics Laboratory, before moving to University of Sheffield in 2020.
Title: SMARTsurg - wearable system and anthropomorphic tools for surgical teleoperation
Abstract: The benefits of improving the dexterity of the surgical manipulators to enable surgeons to perform more complex tasks are offset by the increased complexity of tele-operation and cognitive and physical effort on the operator side typically. A right balance between higher dexterity and intuitive control in tele-operation is yet to be defined. In this study, a dexterous, anthropomorphic master has been deployed to assess and compare the efficiency of anthropomorphic surgical instruments and wearable master systems. We explored different concepts in VR/AR and on a physical platform and tested this concept's efficiency on virtual surgical training tasks and on laparoscopic trainers.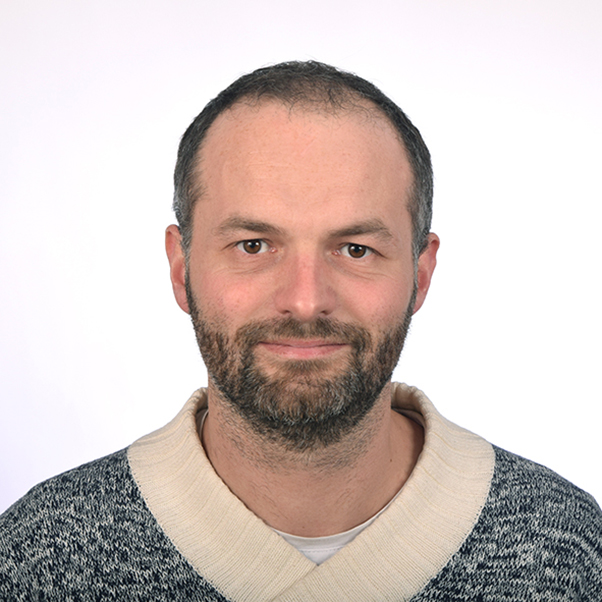 Dr. Christian Duriez, INRIA & University of Lille, FR
I received the engineering degree from the Institut Catholique d'Arts et Métiers of Lille, France and a PhD degree in robotics from University of Evry, France. My thesis work was realized at CEA/Robotics and Interactive Systems Technologies followed by a postdoctoral position at the CIMIT SimGroup in Boston. I arrived at 
INRIA in 2006 to work on interactive simulation of deformable objects, haptic rendering and medical simulation. I am now the head of DEFROST team, created in January 2015. My research topics are Soft Robot models and control, Fast Finite Element Methods, simulation of contact response and other complex mechanical interactions, new algorithms for haptics. All my research results are developed in SOFA, which is a framework that we co-develop with other INRIA teams. I was also one of the founders of the start-up company InSimo which use our research results for a fantastic humanitarian project HelpMeSee. I recently got the prize « Ernest Déchelle » from the French Académie of Science in applied mathematics.
Title: Unified modeling of soft robots and soft tissues
Abstract: The interest of soft robots for surgical applications is that they have a similar compliance.  They can thus deform on contact with soft tissue without damaging it. It is then important to be able to model the robot in its environment and thus to have a unified approach for both soft robots and soft tissues. In this presentation, I will demonstrate how the soft robots modeling developed by our team derives from models used for soft  tissues which allows today to develop coupled models.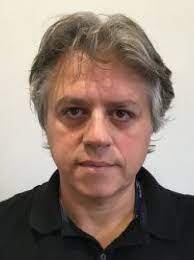 Prof. George Mylonas, Imperial College London, UK
Dr George Mylonas is the director of the HARMS lab with the Dept. of Surgery & Cancer and The Hamlyn Centre at Imperial College London. He is leading research in the areas of surgical robotics, minimal access surgical technology, cyber-physical systems, perceptual human-machine interfaces and smart operating theatres. I will try to connect tomorrow from my phone around the time of my talk. If I am not able and if there are any questions, James Avery and Mark Runciman should be attending and may be able to answer.
Title: Soft parallel robot with proprioceptive sensing
Abstract: The talk is a personal account on how limitations in conventional device design and materials in surgical robotics, organically dictated the transition to soft mechanisms and the development of new fabrication methodologies and novel shape sensing modalities. A universal endoscope robotic attachment is discussed, alongside rapid automated multi-layer selective thin-film robotic welding, and Electrical Impedance Tomography for proprioceptive soft actuators.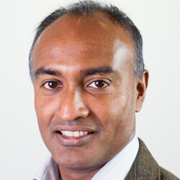 Prof. Thrishanthra Nanayakkara, Imperial College London, UK
Thrishantha Nanayakkara is the director of the Morphlab at Dyson School of Design Engineering, Imperial College London. He is also the speaker (chair) of the Imperial Robotics Forum with 44 principal investigators. His research interests are in using a soft robotics approach to understand embodied intelligence. Main applications have been in robot assisted medical training and robust outdoor locomotion.
Title: Morphface – a robotic patient that can represent gender and ethnicity
Abstract: In this talk I will show how our new soft robotic patient can provide visual and haptic feedback to physicians to help them learn physical examination skills on patients of different ethnic and gender backgrounds. Realtime multimodal sensor integration is important for diagnosis using physical examination. For instance, physicians would monitor facial pain expressions during physical examination to interpret haptic perception internal organ conditions. However, interpretation of visual feedback can be biased by prior exposure to patients of different gender-ethnic combinations. I will show theoretical predictions and experimental evidence of the importance of using such robotic patients to use multimodal feedback during physical examination.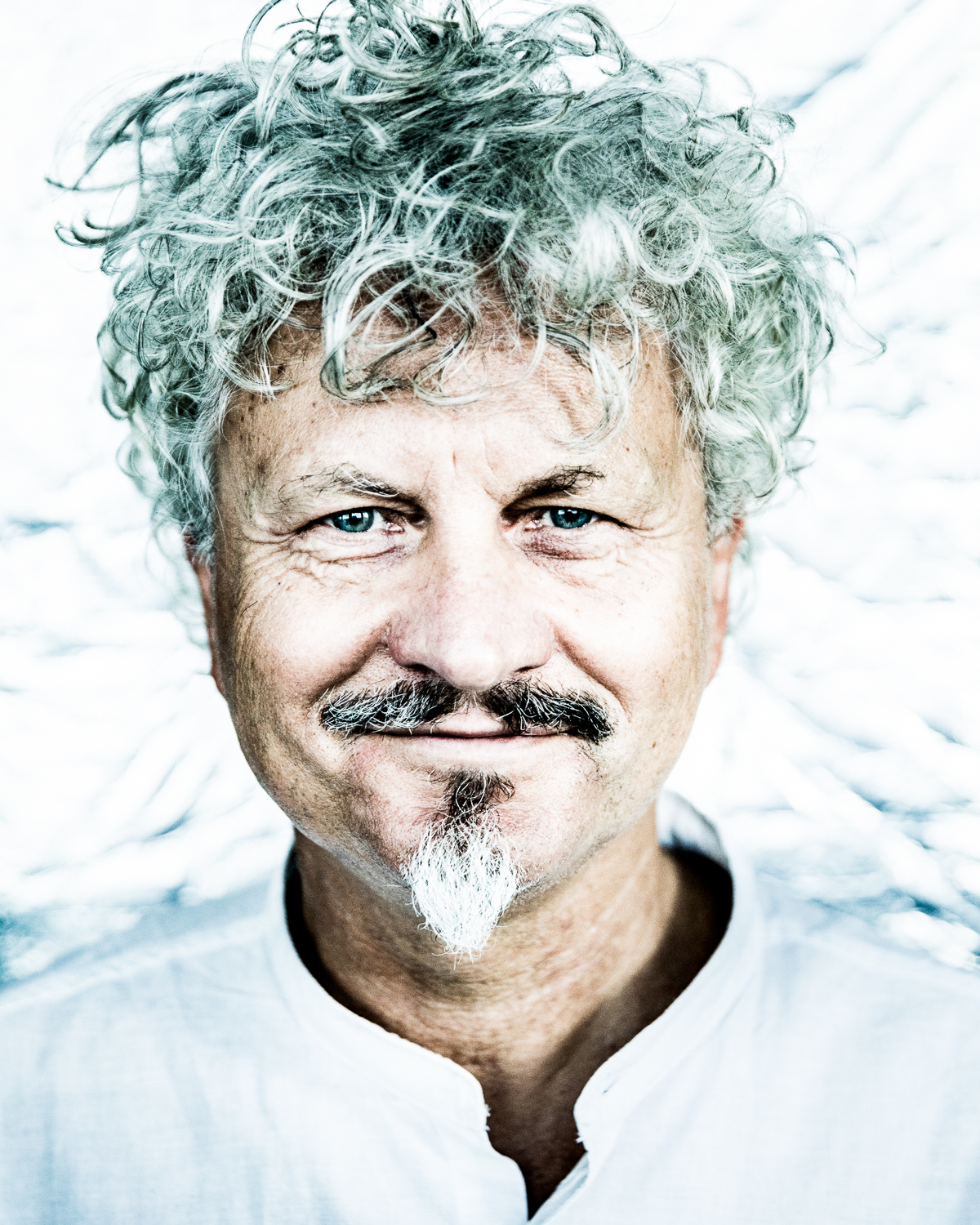 Prof. Zbigniew Nawrat, Medical University of Silesia, PL
Zbigniew Nawrat - scientist, inventor, teacher, visionary. He is theoretician physicist by profession (University of Silesia Degree in 1984), who the own whole professional activity associated with the medicine (Doctorate of Medical Academy of Silesia in 1997 – subject artificial heart, 2013 habilitation – subject medical robotics). He is an author of pioneer researches in artificial organ domain, especially heart prostheses. Polish ventricular assist device POLVAD was first clinically applied in 1993. He is a father of cardiac surgery robot Robin Heart - which is a first Polish and European tele-manipulator prototype  for heart surgery (licenses for one of the Robin Heart models PVA were sold in 2019). He is also a pioneer of application the computer simulation & virtual space technology to surgical planning process. Zbigniew Nawrat works in Medical University of Silesia (ass. prof. in Biophysics Department) as well as in Foundation of Cardiac Surgery Development as Creative Director now. He is a member of Biomechanics section of Polish Academy of Sciences. He is an organizer of many conferences and workshops e.g. BioMedTech Silesia, Surgical Workshop, Medical Robots. He founded the International Society for Medical Robotics in 2010 – president till now. He created and publishes (editor) the journal Medical Robotics Reports. Hobby: Poet, composer, musician, sailor. He released the music album "Rok dobrego człowieka" ("A Year of Good Man") by ZAWRATU.  He lives and works in Zabrze (Silesia region), where he was born in 1960.
Title: Polish surgical robot Robin Heart - soft or hard?
Abstract: The key to modern medicine is the increase in productivity. Following the widespread success of telecommunications and telemedicine, surely the time has come for "teleaction" – remote action, in which our movements are implemented by distant robots. Medical robots improves the quality and creates an opportunity to introduce a new standards because between the diagnosis and the decision, between the decision and action is a computer control system. The role of today's robots so far is not to replace the surgeon, but in a controlled expand its capabilities and improve ergonomics. One of the best example is Robin Heart robot. The Robin Heart surgical robot project conducted by the Foundation of Cardiac Surgery Development, after series of animal and teleoperation experiments entered the phase of preparation the first clinical robot model. The Robin Heart system includes the planning system, training system, experts' program, as well as telemanipulators and automatic surgical tools. The biggest from family Robin Heart mc2 robot replaces three people at the operating table: first and second surgeons, and the assistant holding the visual tracking system. Modern console with excellent haptic system named Stiff Flop Robin Console have been created and tested during last years. The Robin Heart PortVisionAble dedicated for control the endoscope during the mini invasive surgery (lightweight, mobile robot) offered with telemedic system is prepared for first clinical usage. The license was sold to the company that is to implement it on the market in 2019.
The effectiveness of medical intervention depends on 1. the quality of information about the field of operation (vision) - it allows for the correct choice of the place of action; 2. ability to access, reach the site of surgery; 3. efficiency of the surgical instrument (maneuverability + physical action on the tissues); 4. precision of control (ergonomics of the operator's position or an appropriate autonomous robot program). In the Robin Heart robot, we typically use rigid tools with a different number of degrees of freedom. In the European Stiff Flop project, we had the opportunity to consider, design and research tools inspired by the observation of octopus. In the lecture will present the advantages and disadvantages,  progress and limitations in the field of tools with variable, adjustable stiffness and geometry.
Zbigniew Nawrat, Medical University of Silesia, PL
Dariusz Krawczyk, Foundation of Cardiac Surgery Development; Zabrze, PL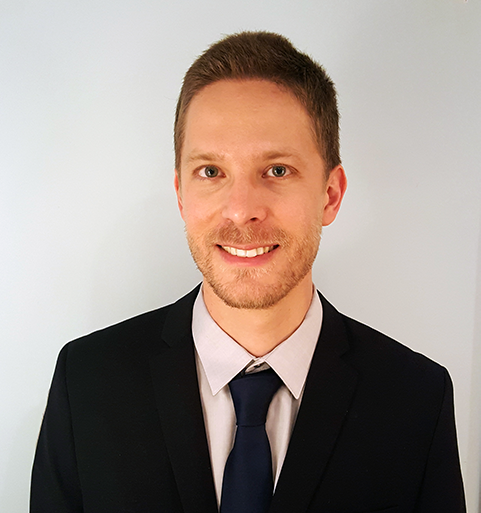 Prof. Tommaso Ranzani, Boston University, USA
Tommaso Ranzani is an Assistant Professor in the Department of Mechanical Engineering, Biomedical Engineering, and in the Division of Materials Science and Engineering at Boston University. He received a Bachelor's and Master's degree in Biomedical Engineering from the University of Pisa, Italy. He did his Ph.D. at the BioRobotics Institute of the Sant'Anna School of Advanced Studies and he joined the Wyss Institute for Biologically Inspired Engineering at the Harvard John A. Paulson School of Engineering and Applied Sciences as a postdoctoral fellow in 2014. At Boston University, he founded the Morphable Biorobotics Lab. The lab focuses on expanding the potential of soft robots across different scales to develop novel reconfigurable soft-bodied systems with applications ranging from environmental exploration to assistive and soft surgical robots.
Title: Developing complex multi-scale soft biomedical devices for advanced minimally invasive interventions.
Abstract: Soft robots are constructed from compliant materials, resulting in machines that can safely interact with natural environments. Given their inherent compliance, they are particularly suitable for exploring and interacting with unstructured environments, and manipulating soft, delicate, and irregular objects. These properties make soft robots promising for biomedical applications, such as wearable and surgical devices. During this talk, I will describe progress in soft robotics and its potential for revolutionizing biomedical devices. I will introduce a soft manipulator inspired by the structure and the manipulation capabilities of the octopus tentacle, which is able to selectively tune its stiffness. I will introduce the potential of soft robotics at the millimeter and micrometer scales, addressing the challenge of manufacturing complex mesoscale three-dimensional soft structures using two-dimensional processes involving laser machining, lamination, and soft lithography. These manufacturing processes could pave the way for soft microrobots as well as a new class of deployable, small, and safe medical devices. Ultimately, I will discuss challenges and opportunities in controlling soft multi-DOF robots focusing on the integration of onboard flow-control components.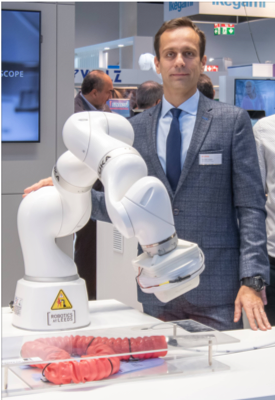 Prof. Pietro Valdastri, University of Leeds, UK
https://www.stormlabuk.com
Prof. Valdastri's academic career started with a Laurea degree cum Laude in Electronic Engineering from the University of Pisa in 2001 and a PhD degree cum Laude in Biomedical Engineering from Scuola Superiore Sant'Anna in 2006, with Prof. Paolo Dario as primary advisor. After the PhD, he served as Assistant Professor of Biomedical Engineering at the BioRobotics Institute of Scuola Superiore Sant'Anna for three years, focusing on implantable medical devices and surgical robotics. In 2011, Prof. Valdastri moved to Vanderbilt University, where he became Assistant Professor of Mechanical Engineering. There, Prof. Valdastri started the Science and Technologies Of Robotics in Medicine (STORM) Lab focusing on medical capsule robots for gastrointestinal endoscopy and abdominal surgery. In 2016, he moved to Leeds as Full Professor and Chair in Robotics and Autonomous Systems with a primary appointment in the School of Electronic and Electrical Engineering and a secondary appointment in the School of Mechanical Engineering. In Leeds, Prof. Valdastri is directing the STORM Lab, the Institute of Robotics, Autonomous System and Sensing (IRASS), and the Robotics at Leeds network. Prof. Valdastri is a Royal Society Wolfson Research Fellow, a Senior Member of the Institute of Electrical and Electronics Engineers (IEEE), the Editor for Medical and Rehabilitation Robotics of the IEEE Robotics and Automation Letters, a member of the Technology Committee of the European Association for Endoscopic Surgery (EAES), and a member of the steering committee of the International Society for Medical Innovation and Technology (iSMIT). In the last five years, Prof. Valdastri received more than €12M in research funding as Principal Investigator, including the National Science Foundation CAREER Award with the proposal "Lifesaving Capsule Robots" in 2015, the European Research Council Consolidator Grant Award with the proposal "NoLiMiTs – Novel Lifesaving Magnetic Tentacles" in 2019, and the KUKA Innovation Award for his robotic colonoscopy platform. STORM Lab's research has been featured by several tech news outlets, including BBC, The Times, The Financial Times, New Scientist, The Spectator, WIRED, IEEE Spectrum, Medgadget, Daily Mail, The Engineer, Medical Design Technology Magazine, Medical Xpress, Newswise, NSF Science Now.
Title: Soft Robotics for Early Detection and Treatment of Cancer
Abstract: The talk will focus on Robotic Flexible Endoscopy and the level of computer assistance required to minimize the mental burden on the operator. Flexible endoscopy enables clinicians to reach deep inside the human body to diagnose and treat mortal diseases, such as cancer. Unfortunately, conventional flexible endoscopes are difficult to operate, often traumatic for the patient, extremely expansive, and prone to the risk of viral and bacterial cross-contamination. Robotic flexible endoscopes – a sub-class of medical continuum robots – have the potential to revolutionize the field by offering an easy-to-use, safe, affordable and low-risk alternative for procedures such as gastrointestinal endoscopy.  During the talk, we will discuss robotic flexible endoscopy platforms under development at the STORM Lab to transform medical robotics. We will also explore different levels of computer assistance designed to improve the user experience and facilitate adoption by healthcare operators.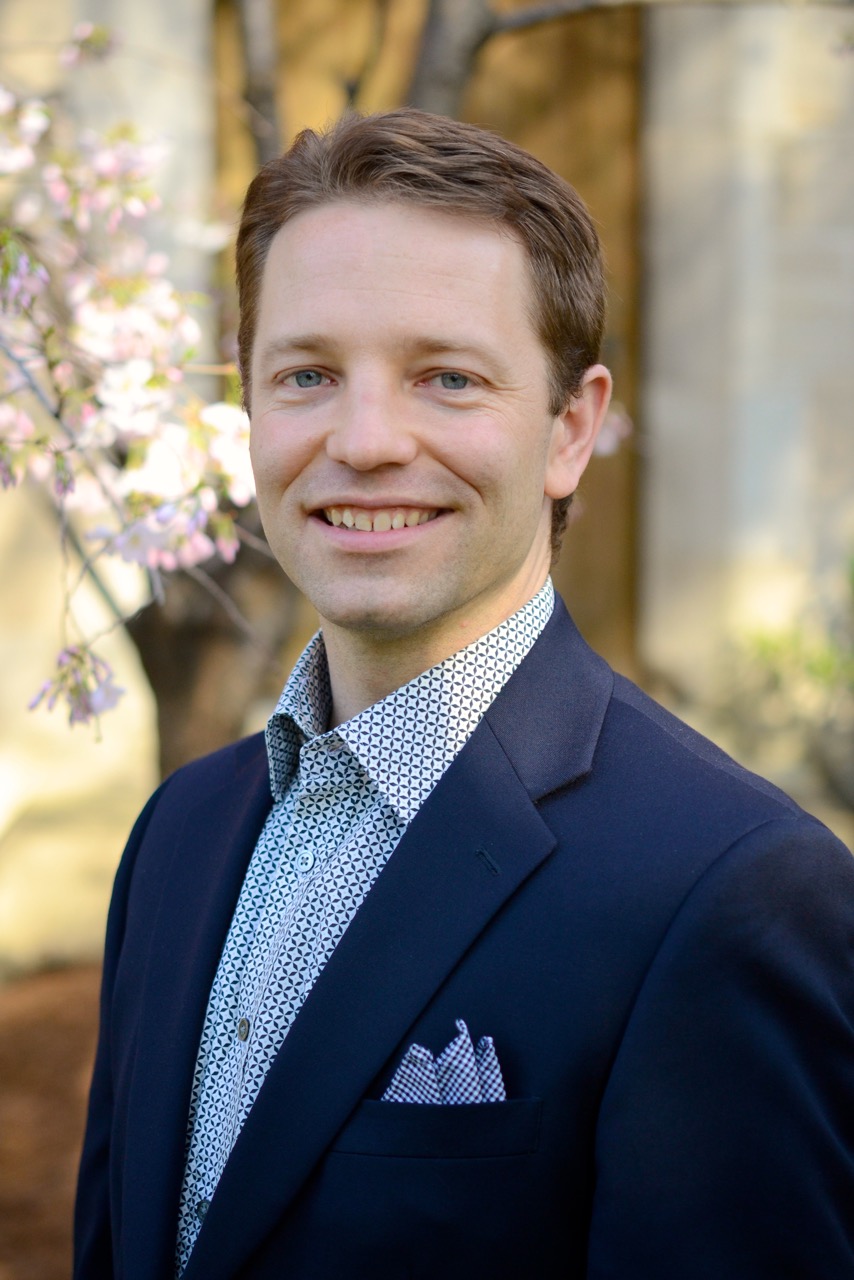 Prof. Robert James Webster, Vanderbilt University, USA
Robert J. Webster III is the Richard A. Schroeder Professor of Mechanical Engineering at Vanderbilt University.  He received his B.S. in electrical engineering from Clemson University in 2002, and his M.S. and Ph.D. in mechanical engineering from the Johns Hopkins University in 2004 and 2007. In 2008, he joined the mechanical engineering faculty of Vanderbilt University, where he currently directs the Medical Engineering and Discovery Laboratory. He founded and serves on the steering committee for the Vanderbilt Institute for Surgery and Engineering, which brings together physicians and engineers to solve challenging clinical problems. He is the founder and President of Virtuoso Surgical, Inc. and EndoTheia, Inc. which are commercializing technologies invented in his laboratory. Prof. 
Webster's research interests include surgical robotics, medical device design, image-guided surgery, and continuum robotics. He is a recipient of the IEEE Robotics and Automation Society Early Career Award, the National Science Foundation CAREER award, the Robotics Science and Systems Early Career Spotlight Award, IEEE Volz award, and the award for Excellence in Teaching from Vanderbilt University. He holds appointments in Electrical Engineering, Otolaryngology, Neurological Surgery, Urologic Surgery, and Medicine at Vanderbilt. Eight of his prior trainees are now in faculty positions.
Title: Bridging Valley of Death for Soft Surgical Robots
Abstract: This talk will go over some adventures in the commercialization of soft surgical robots, from R&D to perspectives on recent changes in the regulatory environment. The talk will cover our recent work with Virtuoso Surgical, as well as some other systems that have emerged on the commercial market recently, and reflect on the pathway between the research lab and a system that is in the hands of doctors and is out there helping patients.


Prof. Helge Wurdemann, University College London, UK
Helge Wurdemann is Associate Professor of Robotics at University College London. He heads the Soft Haptics and Robotics Lab and is Co-Director of the Intelligent Mobility at UCL Lab. His research interest focuses on the hardware design and application of soft material robotic systems that have the ability to change their shape and stiffness on demand bridging the gap between traditional rigid and entirely soft robots. His team creates and embeds innovative stiffness-controllable mechanisms as well as combine advanced Artificial Intelligence with control strategies in robotic prototypes emerging from the lab. The research of the group is application-driven and informed by close collaboration with clinicians and experts from the medical device industry. Helge has received a number of highly rated and competitive research grants from the EPSRC and EIT, one of which has been finalist for the EIT Innovation Award 2020. He has authored over 70 papers published in high-impact journals leading the field of robotics and peer-reviewed full-length conference papers presented at premium robotics conferences as well as been invited to deliver 35 invited (keynote) talks. He is the Co-General Chair for ICRA 2023 and Associate Vice-President (Finance) for IEEE RAS CAB.
Title: Soft robotics for cardiovascular interventions
Abstract: Helge will present latest research and findings in the field of cardiovascular robotics. Transcatheter aortic valve implantation (TAVI) is a minimally invasive surgical technique to treat aortic heart valve diseases. According to current clinical guidelines, the implanted prosthetic valve replacing the native one is selected based on pre-operative size assessment of the aortic annulus through different imaging techniques. That very often leads to suboptimal device selection resulting in major complications, such as prosthetic valve leakage or interruption of the cardiac electrical signal. In this talk, a new, intra-operative approach is introduced to determine the diameter of the aortic annulus exploiting intra balloon pressure and volume data, acquired from a robotised valvuloplasty balloon catheter. An inflation device, capable of collecting real-time intra-balloon pressure and volume data, was designed and interfaced with a commercially available
valvuloplasty balloon catheter. A sizing algorithm allowing to precisely estimate the annular diameter was integrated. The algorithm relies on a characterised analytical model of the balloon free inflation and an iterative method based on linear regression.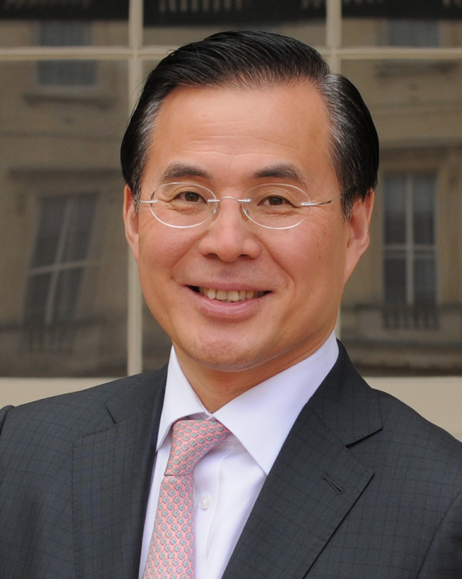 Prof. Guang-Zhong Yang, Shanghai Jiao Tong University, CN
Professor Guang-Zhong Yang (CBE, FREng, FIEEE, FIET, FAIMBE, FIAMBE, FMICCAI, FCGI) is a chair professor and the founding dean of the Institute of Medical Robotics at Shanghai Jiao Tong University (IMR@SJTU). He was the founder and director of the Hamlyn Centre for Robotic Surgery, Imperial College London, UK. Professor Yang's main research interests are in medical imaging, sensing and robotics. He is a Fellow of the Royal Academy of Engineering, fellow of IEEE, IET, AIMBE, IAMBE, MICCAI, CGI and a recipient of the Royal Society Research Merit Award and listed in The Times Eureka 'Top 100' in British Science. Professor Yang is the founding editor of Science Robotics (http://robotics.sciencemag.org/) – a journal of the Science family dedicated to the latest advances in robotics and how it enables or underpins new scientific discoveries. He was awarded a CBE in the Queen's 2017 New Year Honour for his contribution to biomedical engineering.
Title: Navigating through the endoluminal maze
Abstract: As the founding editor for Science Robotics, Prof Yang will discuss the new challenges and opportunities for surgical robotics, as well as the future trends for robotics in general. The talk will highlight the role of new materials and fabrication schemes for developing a new generation of robots that are multi-functional, power-efficient, compliant, and autonomous in ways akin to biological organisms, as well as biohybrid and bioinspired robots. The talk will demonstrate the development of articulated, bio-inspired robots integrated with vision and navigation to facilitate endoluminal procedures.